The Axe of the Mountains is an unique artefact axe in SpellForce 3. It can be reforged by Isgrimm from parts in Mulandir. The artefact was split into head, knob and haft which could be found at various places.
Description
Dwarves say that Niethalf used this very weapon to shape the landscape of the Windwall Foothills. Scholars suggest that this particular tale is a parable of the tribal struggles that shook the region centuries ago. Divine or not, the axe is surely one of the most exquisite weapons ever to be crafted on Eo.
Locations
See below where to find the parts of the artefact.
Southwestern corner next to some skeletons.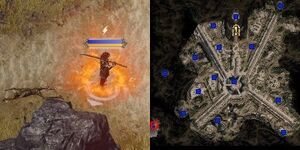 Inside the elven village in the river valley.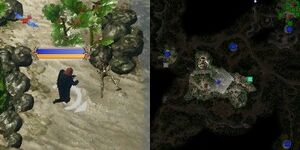 In a barrel to the very east of the map.

Community content is available under
CC-BY-SA
unless otherwise noted.