The Executioner's Blade is an unique artefact heavy sword in SpellForce 3. It can be reforged by Isgrimm from parts in Mulandir. The artefact was split into the tip of the blade, the body of the blade and the hilt which could be found at various places.
Description
Scholars often jokingly concede that the Executioner's Blade ended more internal conflicts in Nortander than any army ever could. The origin of the weapon is unclear, but it appears that the weapon has an ancient origin.
The first written account of it mentions the Executioner's Blade as the blade used for eliminating any sign of dissent among the humans during the War of the Six Races.
Locations
See below where to find the parts of the artefact.
Could be found under the arch in the north.

Body of the Blade (Everlight)
Inside the Glittering Mines to the north.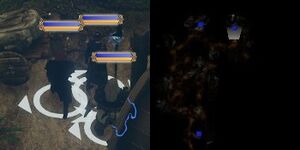 East of the dam bridge to at a skeleton between an alcove to the north.