The Guardians' Grace is an unique artefact chestpiece armor in SpellForce 3.
There are several shrines for the dedicated to some unholy power in the Glittering Mines of Everlight, in Leafshade and in Old Haalâyash.
Visiting each of them and turning the pillars correctly would summon the boss Shadow of Barga Gor. He would drop the armor once defeated.
Description
The power of resurrection has always been coveted by the denizens of Eo. And while no one has discovered the secret to life eternal, the Guardians' Grace is probably the one artefact that comes closest to that dream. Like everything else on Eo, the power of resurrection comes at a steep price. The wearer can only be brought back if his blood is spilled on the battlefield.
Related articles
Message in a Bottle
A writing that could be found in Everlight.
Supposedly it is telling the story of the previous owner of the Guardians' Grace.
Locations
See below where to find the shrines.
Everlight - Glittering Mines
Turn the pillar to the west.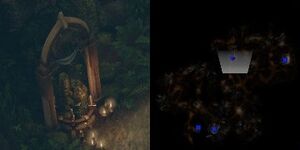 Leafshade
Turn the pillar to the north.

Old Haalâyash
Turn the pillar to the west.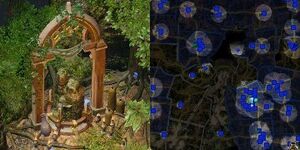 Tips and Tricks
This armor does not make your character invincible. There is a cooldown on the reviving effect of like 10-20 seconds before you're reborn on death again. This effect is not shown in the game. Thus be careful and only use this armor as a safeguard.
Community content is available under
CC-BY-SA
unless otherwise noted.